Fleur de Lis Bronze Circlet with Crystal Drop Perfect for your French Renne costume or a French themed wedding, this Fleur de Lis Bronze Circlet is hand made.
Fleur de Lis Bronze Circlet with Crystal Drop by
Bronze Smith Art
Stunning for a wedding, Renaissance faire or other event, this hand made bronze circlet has a central Fleur de Lis design with crystal drop. The central design is about 2 inches high (3 inches including the beautiful crystal).
These amazing hand made bronze circlets can be worn using the attached leather cord and metal slide and bent for a comfortable, customized fit. They are light, cool, comfortable to wear and finished with a clear lacquer so they never need to be polished. They will last a lifetime.
They are individually hand made by a true artist - please allow extra time for delivery. Hand made pieces may vary slightly from photo example.
Item Number:
BZ-CIRCFLEUR |
Approximate Size (Inches):
7.00 wide x 4.50 deep x 2.50 high |
Approximate Shipping Weight:
1.00 lbs.
Goes Great With...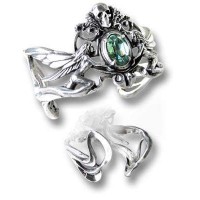 Paris' celebrated C19th gothic poet and visionary, and champion of the supernaturally creative powers of ab..
$65.00
---
Pewter choker with Swarovski crystals and elegant, bow-tied black ribbon...
$65.00
---