Dragon Moon Bronze Draconian Wiccan Circlet Gorgeous Dragon and Crescent Moon Wiccan circlet is hand made in bronze - perfect for Draconian Wicca magic and Renne Faires.
Dragon Moon Bronze Draconian Wiccan Circlet by
Bronze Smith Art
The Crescent Celtic and Triquetra Moon is supported by dragons on either side. Gorgeous for Renaissance Faires or those who practice Draconian Wicca. Central point is about 2 inches high.
These amazing hand made bronze circlets can be worn using the attached leather cord and metal slide and bent for a comfortable, customized fit. They are light, cool, comfortable to wear and finished with a clear lacquer so they never need to be polished. They will last a lifetime.
They are individually hand made by a true artist - please allow extra time for delivery and some variation from photo example.
Item Number:
BZ-CIRCDRAGMOON |
Approximate Size (Inches):
7.00 wide x 0.15 deep x 2.00 high |
Approximate Shipping Weight:
1.50 lbs.
Goes Great With...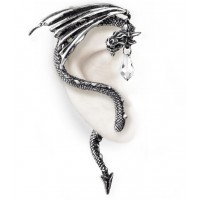 Sold as single earring in pewter with hypo allergenic post and back. Easiest way to put this unique ea..
$35.00
---
Beautifully fashioned winged dragon is bronze with copper wings and a lovely patina that will darken over time..
$125.00
---
Absolutely stunning! This winged dragon ear wrap is hand made of bronze and copper with a sparkling crystal dr..
$52.00
---