Size & Other Options are Not Working on Some Products
Our techs are working on fixing the issue, but until fixed, please let us know which option you want in comments when checking out if the item does not show the option choice.
Announcements
The latest announcements about the store - new features, how to shop, so much more.
Product Details
Do you want to know more about a product I sell? Just scroll down! I am in the process of refining the product pages to give you all the vital information right up top - name of the item, brief description, price, key elements of it, options it might come in, photos of it, etc. But then there is yet more to discover about the item just by scrolling down further! As you scroll, you will reveal details including a more detailed description, size chart, properties of the materials used in the item, delivery options for it, warranty and care information, where it is made, fitting guides and ..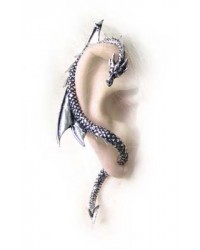 I have discovered a company in China is illegally producing pot metal versions of at least two of Alchemy 1977 Gothic's trademarked designs! These counterfeit pieces are being sold in bulk to unsuspecting merchants worldwide. Both the Temptation Snake Ear Wrap and Dragons Lure Ear Wrap are appearing for insanely cheap prices on sites like Ebay and Amazon - in many cases using Alchemy's copyrighted images and trademarked names! The knock-offs are being produced in low quality metal which is often called pot metal (any metal that melts thrown into the pot) and are not the high quality..
Showing 1 to 2 of 2 (1 Pages)
Bestsellers at Jewelry Gem Shop